Touin Academy (Japanese: 東院学園 Tōin Gakuen), is a high school soccer teams in Tokyo. It's a absolute king thanks to their achievement as Tokyo representative five times for the last 3 years.
Along with Seiseki High School, Tennouzu High and Sakuragi High, they form the four kings of Tokyo high school teams.
Touin Academy kit consists of white-purple strips jerseys, purple shorts, and purple socks.
Notable Players Edit
Interhigh National Championship Edit
Semifinal
National Championship - Tokyo Preliminaries Block A Edit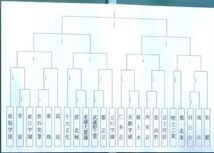 Final
For the Tokyo Preliminaries, Touin Academy was registered in Block A. Like Interhigh, there are two representative from Tokyo Prefecture which is divided into Block A and Block B. Touin Academy and Seiseki High School are placed as seeded in Block A so they only played 4 matches. After lost to Seiseki High School in the final, they became Tokyo B Runner up Preliminaries.
References Edit